Thank you for your interest in a Signature Story Seal.
Please click here for further information on pricing, and how to place an order.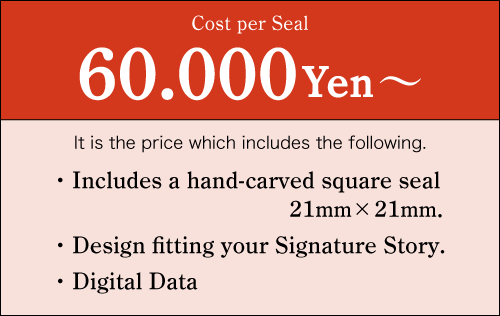 We carve the seal after receiving your approval on the design.
Our Signature Seals are carved by a Certified Traditional Seal Artist.
We design the Signature Seal based on a consultation about the story or message that you wish to convey, and the meaning of the characters assigned to your name. The hand-carved seal will be a one of a kind original seal. The time to produce the Seal averages 22 days, but may vary depending on your approval or discussions on the design.


This is the Flow of the Order process for a WA-IN Hand-Carved Signature Seal. If you are interested in having your own customized seal produced, please contact us by filling out the form and placing your order online.
If you have additional questions regarding the ordering process, please contact us through the online
Inquiry form.